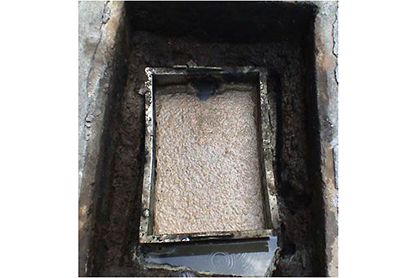 Case Study: Fast Food Restaurant Grease Trap Interceptor
A fast food restaurant faced growing problems with the grease interceptor located in the facility.  The grease trap needed to be pumped every 6 months and the effluent was exceeding discharge limits.
Thick with grease, cleaned every 6 months
The management group elected to treat the problem with Orb-3 Wastewater Treatment Enzyme, and reported the following treatment results:

PARAMETERS

13 November
TEST RESULTS

18 December
TEST RESULTS


LIMITS

WTA04-1. BIOCHEMICAL OXYGEN DEMAND (BOD5), mg/L


(By Azide Modification Dilution Technique)

2579

850

700

WTA05-1. CHEMICAL OXYGEN DEMAND (COD), mg/L


(By Open Reflux)

6320

1407

1400

WTA24-1. pH VALUE at 24 C


(By Glass Electrode)

4.44

4.7

6.5 - 9.0

WTA41-1. TOTAL SUSPENDED SOLIDS, mg/L


(By Gravimetric, Drying to Constant Weight at 103 - 105 C)

1500

147

980

WTA23-1. OIL AND GREASE, mg/L


(By Gravimetric - Petroleum Ether Extraction)

203

12

70
A visual inspection of the treated contaminant also showed a marked difference over the 1-month period.
| | |
| --- | --- |
| | |
| Effluent Sample Before Treatment | Effluent Sample After Treatment |
Continued treatments with enzymes have reduced pumping requirements, put the restaurant back in line with discharge limits, tamed the foul odors, and restored the operation of the drain lines.